Finca La Bolsa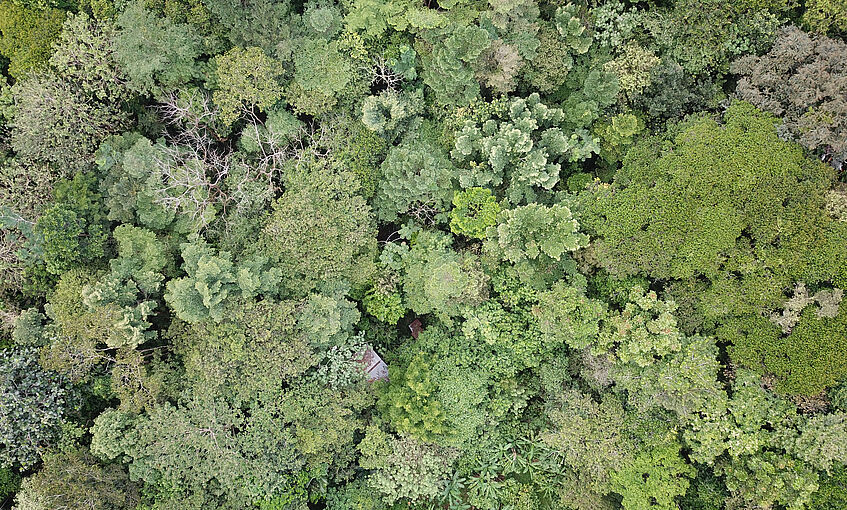 Overview
Area: 16,55ha

Location: La Bolsa Valley, approx. 3km south of La Gamba. 80-170m asl.

Vegetation at purchase: Primary and secondary forest as well as abandoned pasture and cropland in steep terrain.

Date of purchase: Taken over by the Verein Regenwald der Österreicher on July 22nd 2016.
Funding: The reforestation is financed by the club 'Verein Regenwald der Österreicher'.

Projects:
Reforestation and restauration
Natural areas of succession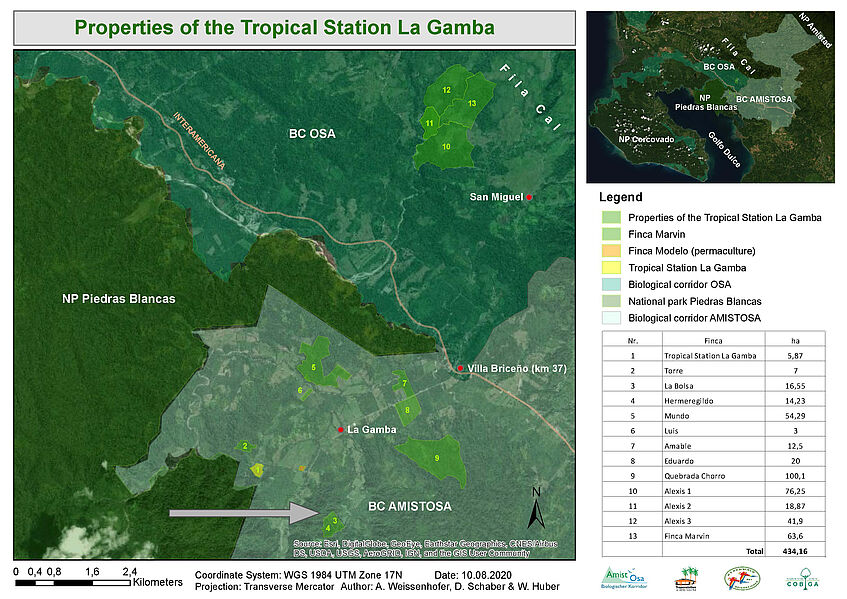 Description
The Finca La Bolsa encompasses a total of 16,55ha and is located in the head valley of the Quebrada La Bolsa. The property lies adjacent to primary forests of the National Park Piedras Blancas and the Forest Reserve Golfito, thus providing a direct connection to the primary forest areas of the national park.

The finca is richly structured and exhibits flat areas that are traversed by a creek, as well as very steep areas with differing types of exposition.
The soils are very heterogeneous due to the exposition and differing geological conditions (a geological fault stretches across the finca). Generally speaking, the soils are very wet, low in nutrients, of acidic pH and contain Al- and Fe-. The soil conditions are of limited agricultural value, explaining why parts of the Finca were used as a pasture.

The agriculturally utilized area (approx. 8ha) was reforested between 2010 and 2012 with 6065 trees from 113 species. Amongst others, the following tree species were planted in this area: Cedrela odorata (Meliaceae), Erythrina fusca, Inga oerstediana (Fabaceae), Licania platypus (Chrysoblanaceae), Ficus insipida (Moraceae), Symphonia globulifera (Clusiaceae), Zygia longifolia, Terminalia sp. (Combretaceae), Trichillia septentrionalis (Meliaceae), Castilla tunu (Moraceae), Apeiba tibourbou (Malvaceae), Simira maxonii (Rubiaceae). The mortality reached 10%.

The finca is already completely covered by forest (as of 2020) and has been left to itself.
A small shelter facilitates research on the Finca. First studies have shown a high degree of diversity in animals and plants that inhabit primary and secondary forests.