The biological corridor La Gamba (COBIGA)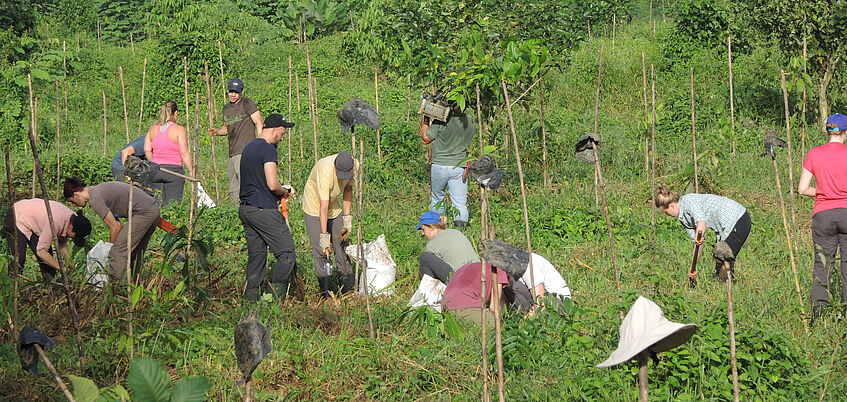 The aim of the La Gamba biological corridor (COBIGA) is to connect the lowland rainforests of the Golfo Dulce region with the upland rainforests of the Fila Cal, a mountain range north of the "Regenwald der Österreicher".
In a collaboration between the Verein Regenwald der Österreicher, Regenwald Luxemburg and the local community, selected areas are being reforested with native trees in a scientifically informed way.
As a result of economic, social and political developments, recent decades have seen an enormous amount of deforestation throughout the tropics, including in Central America and especially in Costa Rica. The establishment of monocultures of export crops such as bananas, oil palms and pineapples, and the enlargement of pastures for meat production, have led to the destruction of primary habitats and severe fragmentation of the remaining forest. In 1996, the dramatic rate of deforestation in Costa Rica was lessend by a strict forest law, but the regeneration of damaged areas is still a huge challenge for ecologists.
Areas have experienced different levels of degradation, depending on location and land use. Some can be left to regenerate naturally and, without interference, will return to species-rich secondary forest within a few decades.
At more severely affected sites, where the seed bank is no longer productive, natural succession may no longer be effective. At these sites, we are carrying out reforestation and forest restoration work by planting native tree species, with the aim of recreating a species-rich forest. Over 100 specially chosen native tree species from the Golfo Dulce region are being cultivated at the model farm (finca modelo) before planting out. The trees will be tended and cleared of lianas for three years, after which time the seedlings should be big enough to survive without further intervention. The area will then be left alone to return to primeval forest.
We are also working on developing a simple forestry concept in collaboration with local farmers. At each site, we select and cultivate tree species of economic interest, which are then planted out by the farmers at their fincas. The farmers are also taught how to care for the trees. Within ten years the first logs will be ready for use, and all harvested trees are replaced. In this way a forest corridor will be established, the primary forest will be protected, and the farmers will have a sustainable supply of timber. We have also produced a book with the farmers, Creando un bosque – Creation of a forest, which explains in straightforward language the importance of reforestation and corridor-building, and gives practical advice for the cultivation and planting of trees.