Project: La Gamba Seed Bank
Funding: Austrian embassy in Mexico and private sponsors
Running time: 2021 - 2022
Project Leaders: Anton Weissenhofer and Ramón Enguídanos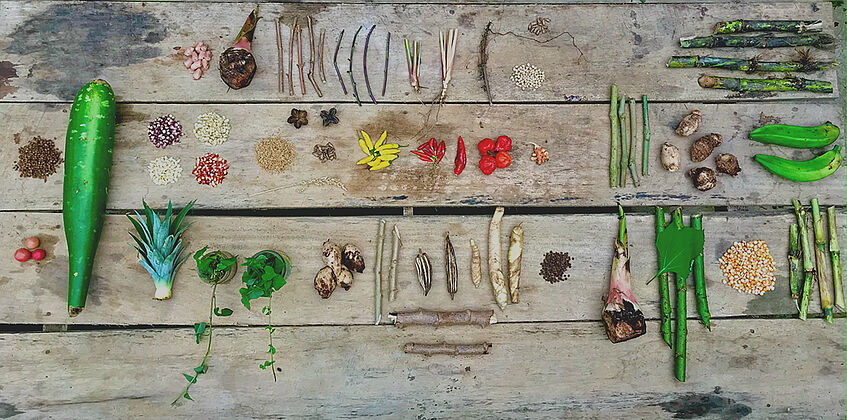 Promoting biodiversity through the creation of a seed and seedling bank in La Gamba

The creation of the Seed and Seedling Bank in La Gamba aims to promote the reproduction, conservation and exchange of the largest possible number of seeds and seedlings of old and new crops for interested people and farmers in the Golfo Dulce region of Costa Rica.
The project stands out for not only providing a large number of seeds for sexual reproduction, but also for the creation of three reserve gardens in the surroundings of La Gamba (Finca Modelo, Finca Alexis and Finca La Flor, 70-400m above sea level) in order to have reproductive parts available for propagation. This combination of a traditional seed bank with reserve gardens in different locations allows the cultivation of a greater number of plants adapted to different climatic conditions.
Currently, a total of 71 varieties are stored as seeds at Finca Modelo in La Gamba and are available for exchange. In the three reserve gardens, 126 plants are currently cultivated.
The goal is to make Finca Modelo and the reserve gardens a meeting place for those interested and to increase the diversity of the crops cultivated in the region through the exchange of seeds and knowledge.
Below you will find two tables of seeds (Seed inventory) and crops (Crops inventory) currently available or cultivated on our three reserve gardens. The project was funded by the Austrian Embassy in Mexico.



Project: Corredor Biologico La Gamba - Intelligent and Ecological CO2 Sequestration and Creation of a Biological Corridor in the Golfo Dulce Region with Reforestation, Forest Protection and Permaculture
In cooperation with Rainforest Luxemburg

Funding: Ministère du Dévelopement (Ministry of Environment)
Amount: 299.607 Euros
Running time: three years
Project leader: Anton Weissenhofer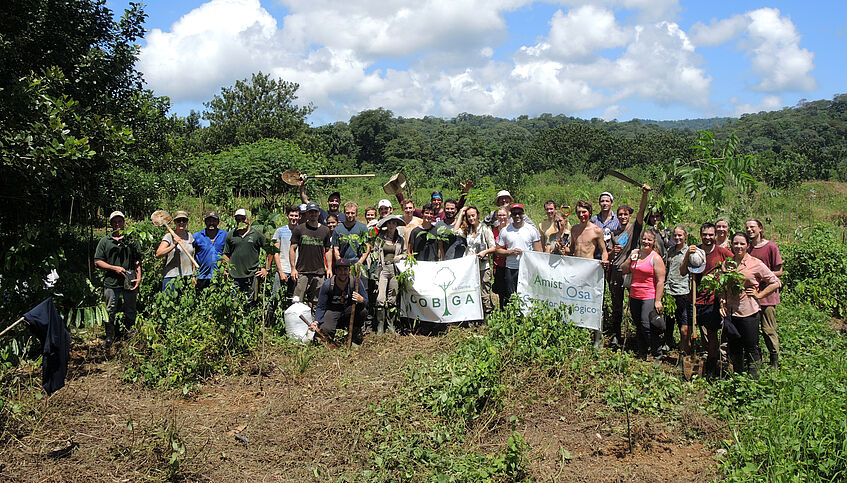 The project 'COBIGA - Intelligent and ecological CO2 Sequestration' was submitted by the Tropical Field Station La Gamba in cooperation with the Verein Rainforest Luxemburg to the Ministère du Dévelopement (Ministry of Environment), Luxemburg in 2017. The multi-facetted project includes the funding of scientific theses in the fields of reforestation and permaculture, the expansion of the Finca Alexis through purchase of additional land (40ha), the acquisition of 15 camera traps for the monitoring project with the MINAE and Osa Conservancy, training courses for interested parties from La Gamba and San Miguel, as well as an educational trail and the restauration of the Finca Modelo's roof. The project volume amounts to 299.603 Euros and has a running time of 3 years (with an optional extension).

A big thanks to the board of Rainforest Luxemburg for their tireless effort regarding La Gamba.