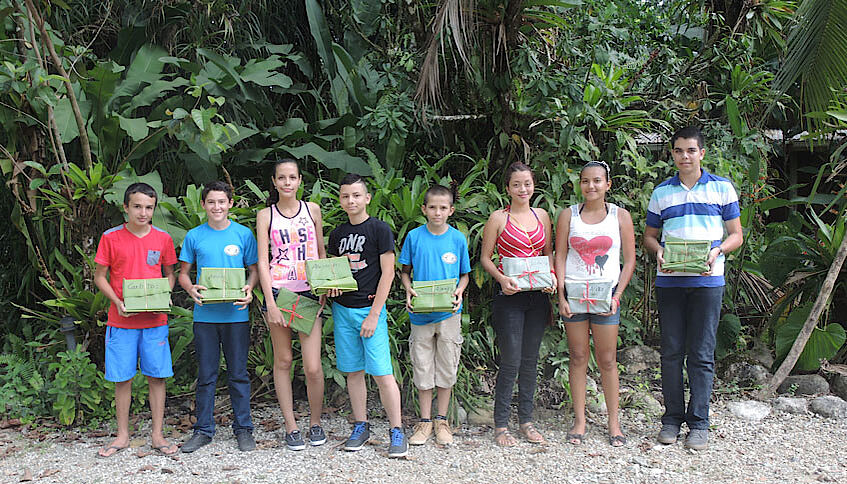 School Project La Gamba
Employees of the Tropical Field Station La Gamba have been involved in local developmental aid projects since many years. The school project, which was started in 2003, aims to foster the education of pupils from La Gamba, one of Costa Rica's poorest communities.
The Tropical Field Station La Gamba currently supports 16 pupils and 3 students enrolled in a colegio (as of March 2020), a type of school that corresponds to an Austrian BHS with vocational education, or a university.
It is our goal to enable the local population to gain a solid education and thus attain an increase in life quality. Whilst visiting a colegio is free, parents can only rarely afford the costs for class trips, books, school uniforms etc. A contribution of 50 € per month for ten months of school covers the majority of this expenditure. Only pupils with social needs are sponsored, they must attain a certain grade point average during the funding period and stay in contact with their sponsor parents.
A sponsorship for students costs 100 € per month, ten times a year.


How can you help?
By sponsoring a pupil or student with a yearly contribution of 500€ or 1000€.
We will introduce you to your sponsored child and inform you on his/her progress on a regular basis. Furthermore, visitors to the Tropical Field Station will have the chance to get to know their sponsored child in person.
As an alternative, you can also take over a project sponsorship.
A project sponsorship ensures that all children enrolled in a school project are supported, your donation is thus not used to sponsor a specific child and reaches all children. The idea behind project sponsorship is to offer support to children for the purchase of required school utensils such as books, writing materials, school uniforms and support for class trips. Furthermore, we can also offer additional financial aid to sponsored children. It is also our aim to offer increased financial aid to sponsored kids who are enrolled in a university.
If you decide for a project sponsorship, we will regularly inform you on current happenings and activities involving our kids in the 'School Project La Gamba'. The price of the project sponsorship is 400€ per year and equals the sponsorship fee for a 'pupil sponsorship'.